Of all firearm companies, Glock truly understands how to maintain interest and respect. It would be easy to argue this is due to their emphasis on functionality over everything else. Their Glock 17 (a staple handgun for many) has proven itself over the years as a duty-grade handgun that is simple and effective. As time has passed, Glock has found ways to upgrade and modify the Glock 17 – which leads us to this review. So grab a coffee and kick back we take a dive into this Glock 17 Gen 4 vs Gen 5 comparison.
General Overview: Glock 17 Gen 4 vs Gen 5
The Glock 17 is undoubtedly one of the most trusted handguns in all of the world. Glock truly hit a home-run with its design of the Glock 17 and it has proven itself over and over again in a variety of environments. Introduced in 1982, the Austrian built G17 is your textbook "full-size" 9mm handgun.
Small changes and modifications have led us to the most current Glock 17 – the Gen 5. With Gen 4 Glock 17 handguns commonly available in the market, many wonder if the newest and latest is worth the extra coin. A Gen 5 G17 will likely cost anywhere between $650-$730 and the Gen-4 will run around $600. Of course, those prices tend to fluctuate as gun sales in the U.S. ebb and flow. When you sell a popular and proven gun, demand will skyrocket during uncertain times.
From a practical application standpoint, the Gen 4 and Gen 5 G17 are both excellent choices. The G17 fits a variety of applications and is arguably one of the most reliable handguns available. As pointed out earlier, most of the differences between Gen-4 and Gen-5 are mostly mild – though some are notable.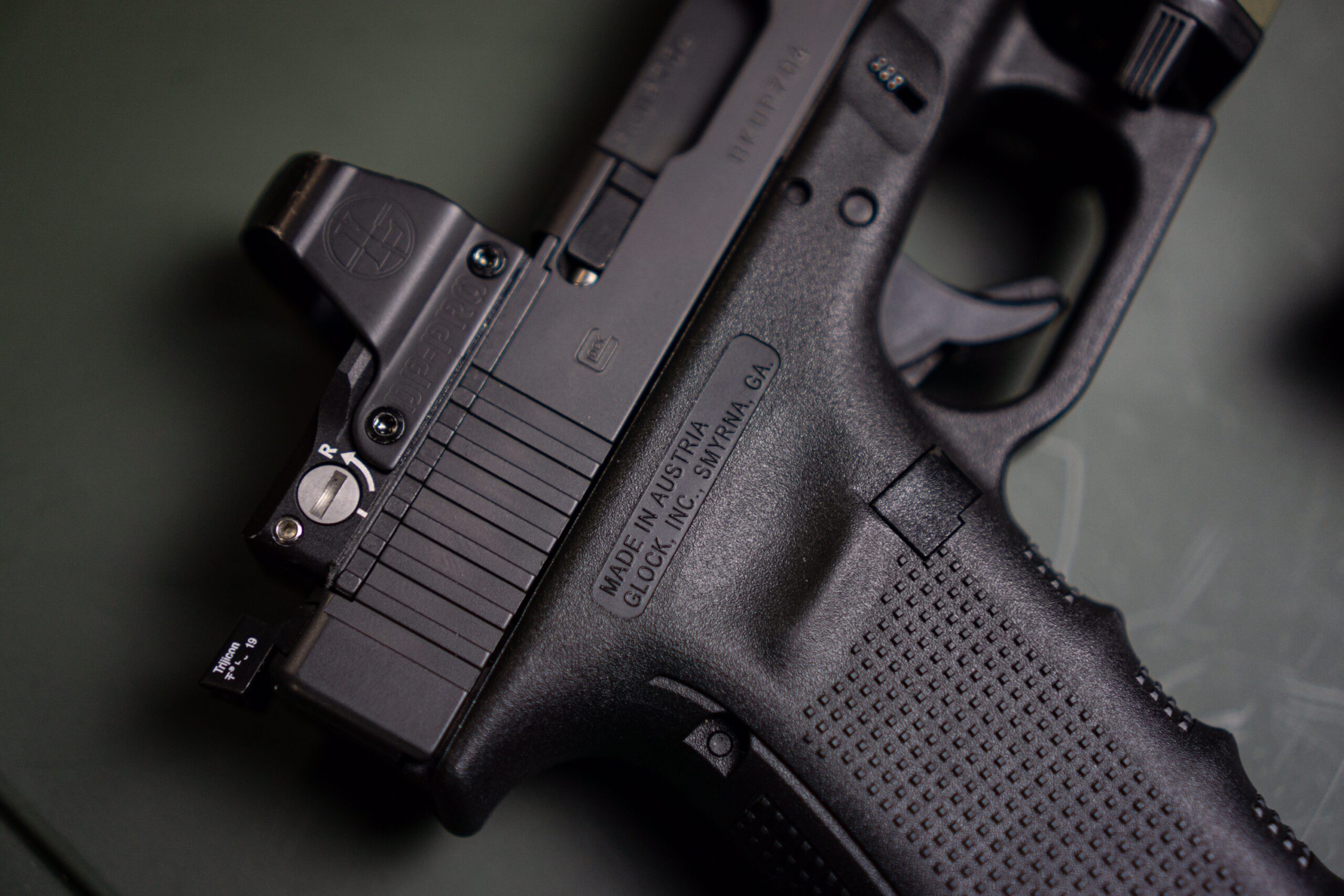 Notable Gen 4 Features
Around since 2010, the Gen 4 G17 offers a few quickly recognizable exterior features. Most apparent, are the finger grooves found on the frame and the squared slide. Finger grooves tend to be a hot topic of discussion in regards to the Gen-4. Some shooters love them and others hate them. I realize that it will likely depend on hand size – for me the finger grooves are fine.
Decent rear slide serrations are provided on the Gen 4. I truly wish that Glock would have provided front serrations, but oh well. Overall, the Gen-4 frame provides a comfortable and "full" grip. Grip texture is adequate for my tastes – though a custom stippling job is on the radar for my Gen-4 that you see in the photos. After shooting extensively, I begin to feel some slipping with Glocks, typically.
The slide release and magazine release on the Gen 4 are staged for a right handed shooter. I should state that the slide release shown on the Gen-4 above is not stock. That slide release is an extended and raised release from Kagwerks. Reversing the magazine release for left handed shooters is possible on the Gen 4.
Gen 5 Features
Introduced in 2017, the Gen 5 Glocks brought a few changes to the table.
Holding the Gen 5 Glock 17 doesn't truly feel all that different from the Gen 4. I mean, sure, the lack of finger grooves is noticeable but it's mostly the same grip and shooting experience. Another feature that is quickly noticeable, is the pronounced beveling of the magazine-well and slide. While I feel like many overlook a feature like this, I did appreciate the extra flare during magazine changes.
The Gen 5 provides relatively the same level of grip texture as well as slide serrations. Glock provides a unique ambidextrous slide release on the Gen 5 – something I'm sure many will appreciate. The beveled front end of the slide was eye-catching to me. I'm sure it's mostly an aesthetic modification – though I'm sure it helps slightly with re-holstering.
An updated finish is found on the slide of the Gen 5 – an nDLC coating. Glock claims this coating is more wear-resistant and designed to function more efficiently in poor conditions. I will say that the coating does seem to provide more grip near the front of the slide when comparing it to the Gen 4.
Each Gen-5 G17 is provided with match-grade "Glock Marksman Barrel" from the factory. Glock claims this barrel "increases accuracy with polygonal rifling and an improved barrel crown."
| Glock 17 Specifications | Gen-4 | Gen-5 |
| --- | --- | --- |
| Price: | $599 | $695 |
| Barrel Length: | 4.48″ | 4.49″ |
| Width: | 1.18″ | 1.34″ |
| Weight Empty: | 25.06oz | 25.26oz |
| Barrel/Slide Finish: | Melonite Durable | nDLC Ion-Bonded Durable Coating |
Range Experience: Glock 17 Gen 4 vs Gen 5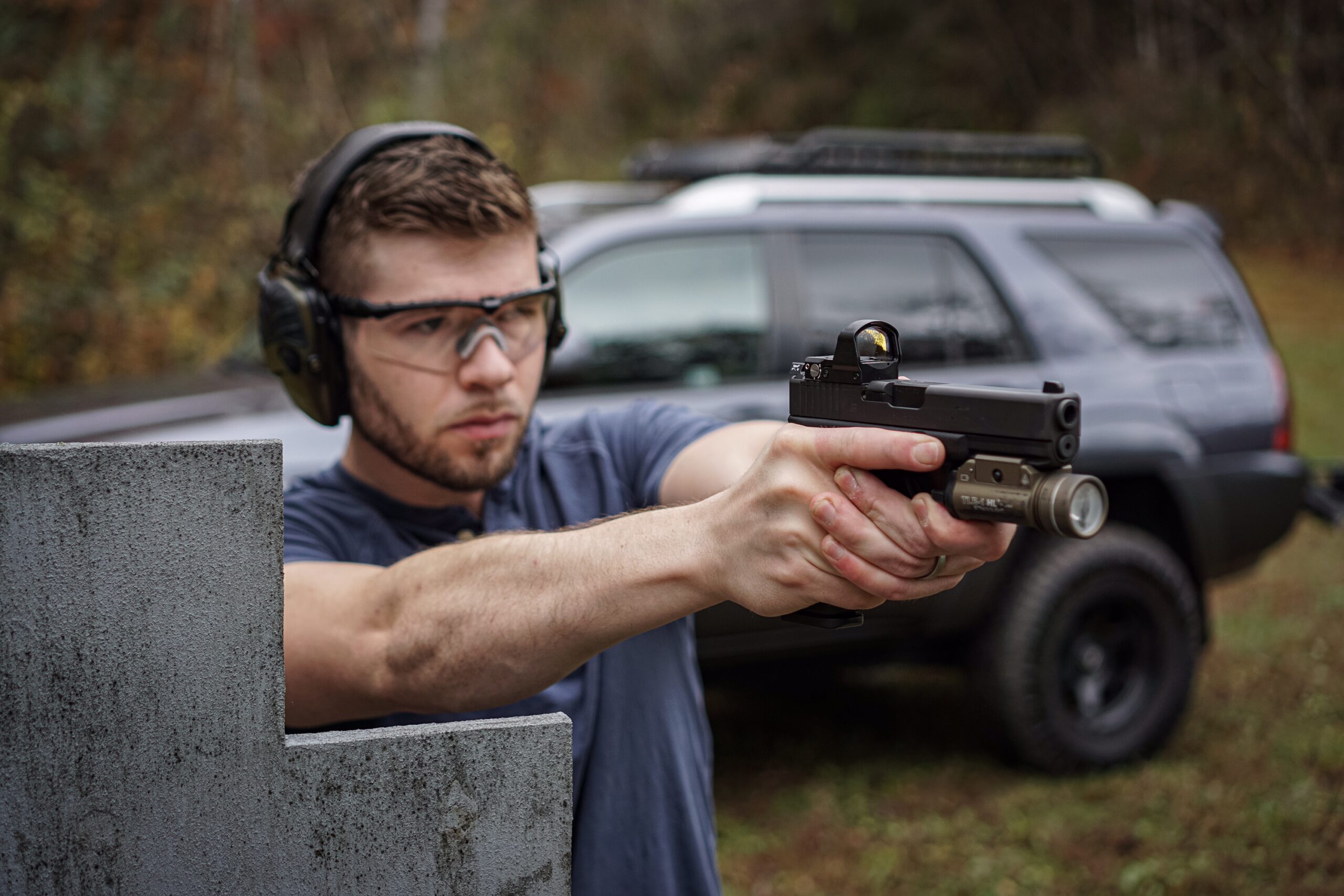 My time with both of these handguns on the range proved to be right in line with what I expected. As someone who owns a G17 Gen-4, the Gen-5 difference I noticed most was in the trigger – something I'll hit in a bit. Outside of the trigger experience, nothing else stood out to me as being "unique" in the Gen-5.
Both handled recoil as expected. One of the things I appreciate about each of these handguns is the smooth handling. Taking quick follow-up shots with the G17 is something that feels natural. The full-sized grip combined with good ergonomics provided a stable and predictable shooting experience with each.
Fortunately, I was able run several hundred rounds of different 9×19 ammunition through each pistol. Both generations handled all of the ammunition (to include self-defense rounds and reloads) with no issues. Considering Glock is known for reliability, I would have been shocked if they acted up with any of it.
The flared magazine-well on the Gen-5 proved its worth to me at the range. Reloads seemed to really be smooth with this upgraded mag-well. That extra forgiveness provided during reloads is valuable – especially under pressure.
For some folks, the finger grooves on the Gen-4 really annoy them. For me, I truly don't even notice when they are there or not so I can't speak on this very much. It's really going to come down to personal preference and or hand size.
Being full sized handguns in 9mm, I had no issues shooting accurately at my standard of accuracy. Most of my shooting was done inside of 20 yards, and for that type of shooting, I had no problem hitting what and where I wanted.
Sights & Trigger: Glock 17 Gen 4 vs Gen 5
Sights and triggers aren't typically areas of expertise for Glock – at least according to popular opinion.
Most consider Glock sights and triggers as "acceptable" but not much beyond that. Multiple companies offer aftermarket options for both, and several of those companies are doing very well. I'll leave it at that. With that in mind, I feel that the Gen-5 does offer some improvements over the Gen-4 in both categories.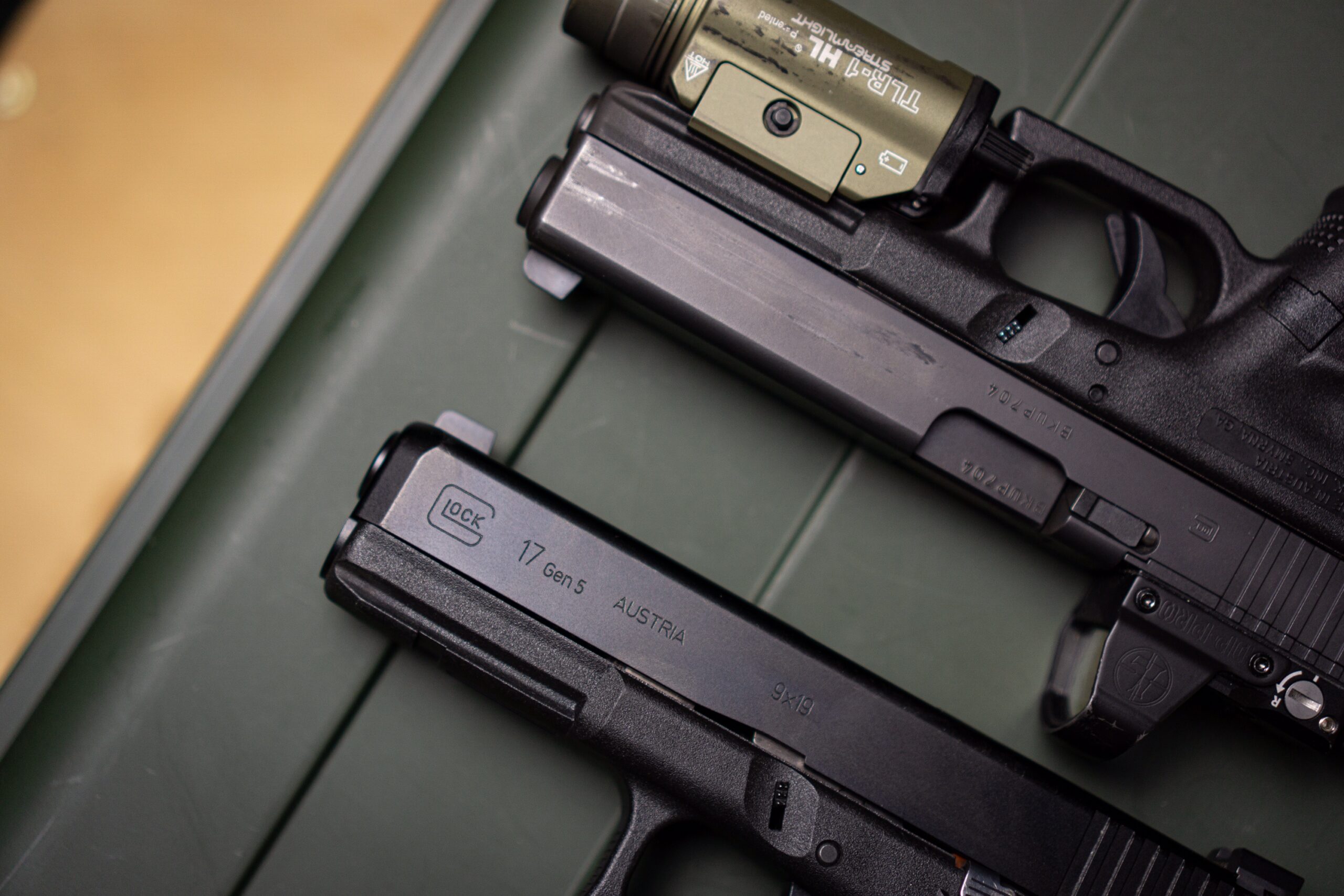 The sights on the Gen-5 that I tested were the optional Ameriglo sights – something I was grateful for. These stood out and were easy for me to pick up while at the range. The high visibility front sight post combined with a dark rear sight proved to be effective. Comparing these Ameriglo sights to the standard U-shaped Glock sights was night and day for me. Thankfully, I don't have the standard Glock sights on my Gen-4 G17 – so I avoided them completely for this review.
Trigger pull is where I really noticed some differences between these two firearms. Right off the bat with my first dry-fire trigger press, the Gen-5 trigger felt exceptionally smooth. Glock re-built the trigger assembly with beefed up components in the Gen-5 – leading to this enhanced experience. An extremely predictable and crisp break was prominent. I'll go ahead and call this a win for the Gen-5.
My Gen-4 trigger is decent and I've learned to shoot well with it, but it's not even close to the Gen-5 feel. The Gen-4 trigger provides a fairly average handgun trigger pull experience with nothing horrible or exceptional about it.
I conducted a trigger weight pull test using a Lyman scale to see if there was any notable difference between the two.
Gen-4: 5.72 pounds
Gen-5: 5.84 pounds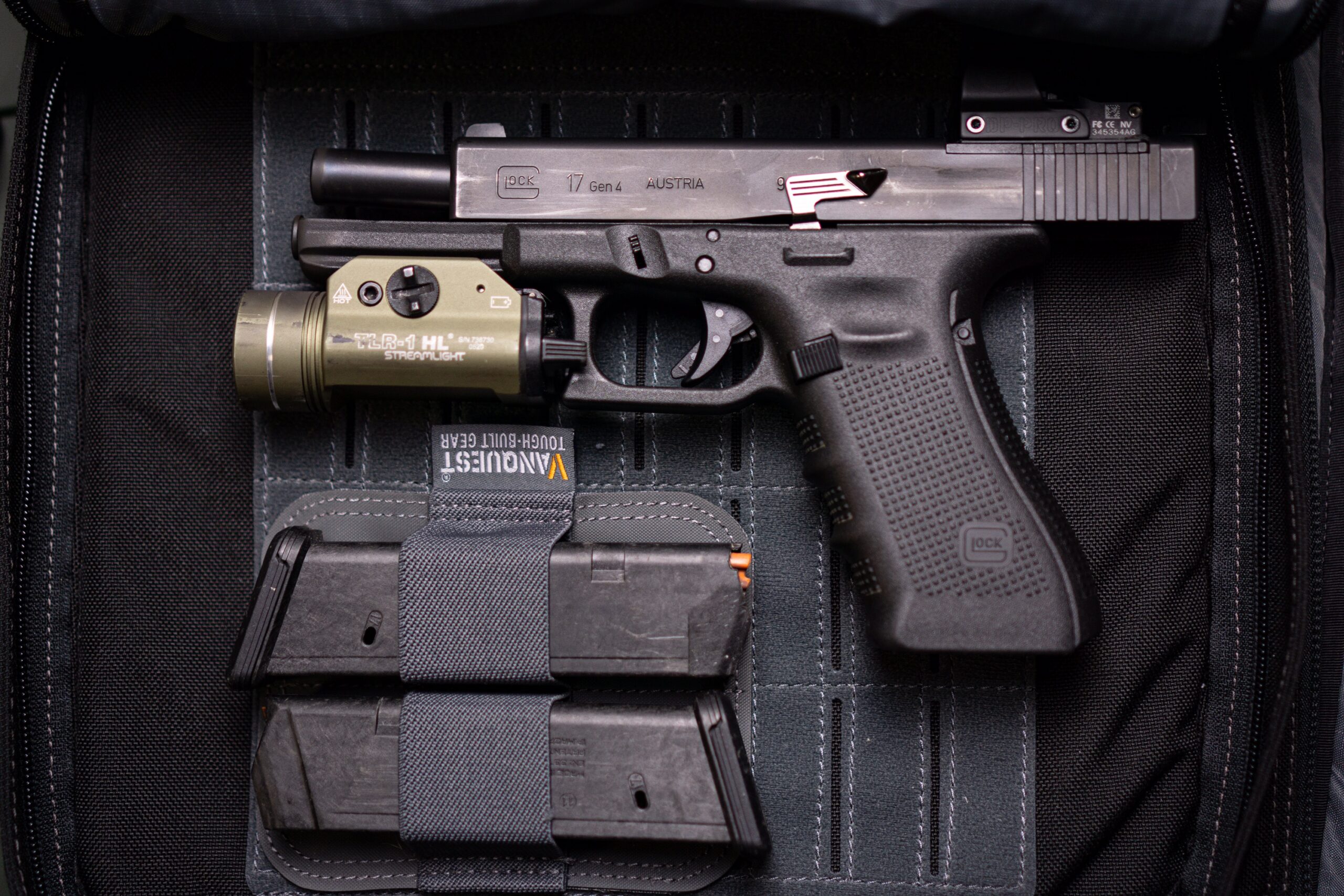 The Takeaway: Glock 17 Gen 4 vs Gen 5
To be very straightforward, I see the differences in these handguns as relatively mild. Don't get me wrong, the updated trigger alone is enough to make me wish I owned a Gen-5. I just don't see it as something that will make or break my shooting proficiency – so I'm staying with the Gen-4.
| Features | Gen-4 | Gen-5 |
| --- | --- | --- |
| Grip: | Finger Grooves | Smooth |
| Mag Well: | Standard | Increased Beveling |
| Slide Release: | Right-Handed | Ambidextrous |
| Coating: | Standard | nDLC Coating |
| Barrel: | Standard | Glock Marksman Polygonal Barrel |
There really is no doubt in my mind that each of these generations offer the reliability and performance that Glock is known for. If the features found on the Gen-5 are worth the extra $100 or so to you, go for it. The biggest thing here is getting hands-on experience with each. Research and reviews only do so much and will inherently provide some level of bias.
In either case, at the time of writing this – Glock is trusted for reliability and has been for a couple decades. In either case, Gen 4 or Gen 5, it seems you will be getting a 9mm pistol you'll be happy with.